Why you shouldnt do your own e-Commerce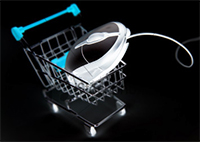 Ok, so you got a great new product or a new spin on a old one or provide services to your customers and want to sell those goods or services online.
There are numerous companies out there waiting to take your money for a shopping cart system or e-commerce type hosting but only a few will deliver the goods so to speak.
There is Zen Cart, X-Cart, OS Commerce and CubeCart to name the big 4 all of these carts have their good points and bad points. of the 4 I love CubeCart for several reasons.
Its easy to skin or design the layout to fit what you want your online store to present to the world
Its easy on Site /store owners to learn to manage, maintain, edit and update your products, site documents and products.
Its extensible, meaning if you need a feature that's not part of the core CubeCart files you can have those new features written into the system. there are several excellent mod authors creating incredible tools and features for use with CubeCart
Its Flexible, You can use CubeCart for everything from selling tickets to laundry detergent or your bands MP3's
Depending on which system you choose to use as your means of selling on the web you will need someone to get you up to speed on what it means to you and your customers to sell online securely and safely. emphasis on securely…
Unless you are very familiar with HTML, CSS, Graphic Design, php and MySQl I do not recommend anyone selling online w/o first getting a Proficient web developer who KNOWS the shopping cart system you will be using.
Most of the systems brag you can download, install and begin selling this is a plain out lie…
Here's why…
Most of these systems at a minimum need a site owner who knows web technologies to set up the system properly and skin and work out your payment gateway, shipping product options etc.
Selling online is not for the weak, timid or the broke.
To sell successfully online will take a web developer working with you to teach you the ins and outs on Search engine optimization, Payment gateways, SSL certificates, shipping methods and other areas to ensure your customers have a trouble free enjoyable experience shopping on your site.
Those who choose to sell online w/o at least researching these areas and not getting a qualified designer to at least design a custom layout for the shopping cart system (templates can be purchased cheaply for most of the above systems but remember if you bought it someone else has too and the only thing distinguishing your site from theirs will be your logo or company name. templates are cheap for a reason… and usually are not full skins but rather stock skins that come with the system and only mildly modified) are looking to go out of business if not quickly then slowly and painfully.
I have had too many of my clients complain they never knew what it really takes to do e-Commerce properly so that they and their customers are not frustrated or fighting with a improperly set up system that isn't using a SSL certificate to encrypt the information being submitted to the site. Hosting companies will take your money and give you the tools but at what cost? Some hosting companies like Host Gator and Blue host have so many users that anyone using a pHp MySql driven website will wait long times to only have their site page fail because the sql server is way over sold and trying to push data to too many users at once. Other places will try to make it easy on you to install the system from your Cpanel via Fantastico but as anyone knows fantastico is the last to know when there has been updates to the system or will cause problems on the install because the server isn't configured properly and installation is only one step to getting setup…
If you are going to sell online get a good shopping cart, research them all find the one you believe will serve you and your customers best.
Research what it takes to shop and to sell online successfully
Stay away form hosted solutions that will charge you every month for a limited shopping cart experience that you have little to no control over.
and above all find a qualified web developer who knows the system you want to use (check each systems website for forums for people who know the system and will work with you to get you up to speed and level the playing field for your online store.