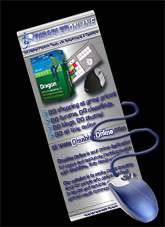 Most of the internet is made up of what we call "brochure" web sites. A web site whose sole purpose is to introduce you to the company the web site belongs to. The site usually contains information on the company's background, their products and or more likely their services, hours of operation, perhaps a gallery of past work, and most importantly a method or methods for you to contact them. So basically a brochure web site is a who we are what we do and how you can get ahold of us kind of web site.
Brochure web sites can take many forms: simple or complex drupal or word press blogs, community forums to facebook clones like phpFox, full blown gallery systems for artisitc or photographic companies, to full CMS driven or static page web sites, even some of the newer SEO friendly flash based websites will work well as a brochure web site. Some new flash systems even function as a CMS or content management system. Over 90% of all websites today are driven by a database back end to make editing and updating easier on the site owner and also frees up the initial developer to concentrate on creating or developing new projects.
How we can help develop your company's Internet presence
Kinetic Servers Web Development Team is fully familiar with most of the content management systems out there and can set up, install and "skin" your site and get you started on using it in relatively short time. Anything from joomla, to drupal to ModX or GeekCMS for a full blown CMS driven website to Menalto G2 gallery and Coppermine galleries for a artistic or photographic venture. Even SEO friendly Flash CMS if you need or want a little more pizzazz.
If you are looking to start a niche community we can handle it. We work with and develp community forums like phpBB, VBulletin and Invision Power Boards as well as work with and develop full spectrum community sites with applications like phpFox. What ever your needs or your community's or company's needs Kinetic Servers Web Development Team can handle it with style.