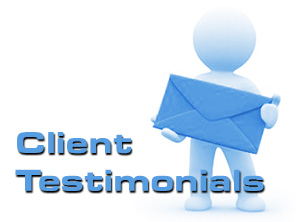 As a customer service oriented based company we here at Kinetic Servers place a high value on what our customers are saying and we find it is our number one priority to actively listen and seek out critiques from our customers on how we can improve our service as well listen to their questions and concerns. As a result our customers in turn have seen fit to say nice things about us. Its not always positive but its honest, the way a true testimony should be.
Kinetic Servers - SSD Hosting - Web Development - Graphic Design - Video Editing
Average rating:
11 reviews
Apr 24, 2020
Very Knowledgable
Kinetic knows everything. If he can't fix it no one can! Helped me with an issue that no one else could fix. Very Satisfied!
was a pleasure helping you with your audio issues
Jan 20, 2020
He's a PC wizard there's nothing he can't fix or build Brought my pieces to him in pieces and kinetic Servers helped me put it all together and did the bios and in overclock my PC for me
Jan 20, 2020
great support
I have been a customer of KineticServers for many years & have always had quick & complete support every time I call. No client is left unattended.
Apr 2, 2017
Thank You Steve!
I have worked with Steve since 2000. He has built many website for my clients from start to finish. He takes their ideas, and turns them into reality. My customers were always so happy with the job that Steve did for them. Once Steve builds the website for you, his work is not done! If you ever need anything at all, he is always just a phone call away. I can't tell you how many nights he answers my call, or even logged into my pc to help me out with an issue.

Steve also built 2 websites for me, that were simply amazing. I would highly recommend him to anyone at all. I promise you, the customer service you will receive from him is top notch, and impeccable. Thank you so much Steve for always going above & beyond.
Dec 28, 2016
Amazing Website Work
Kinetic Servers has done a fantastic and thorough job creating an improved website for my business. They are amazing with regard to every detail of what a website should be and how it should function. BRAVO to Kinetic Servers & Steve Roberts!
Jan 29, 2015
Web Site & Email
Steve did a fantastic job of updating my web site and assisting with our name change, new URL and email. His response time was great which is super-important in a business environment
Feb 7, 2013
Who knew Kinetic Servers made amazing book covers
I am a professional writer and when it comes to my book cover it has to be good. Average person takes only 16 seconds to study a book cover before deciding to purchase. Thanks to Steve's most amazing graphics and rockin 3D imaging I know without a doubt my cover for my book dalV will be a success. Steve has not only the superior skills for graphics but an artistic eye as well. Please feel free to contact me directly for a personal reference. Thanks again Steve!
Feb 10, 2011
The best hosting service available
Kinetic Servers is the most reliable, efficient, and customer friendly hosting available. As an online business owner, I must have a consistent and dependable hosting service. Kinetic Servers delivers the best bang for your buck. I've been a loyal customer for the past five years and on the rarest of occasions, when a problem might occur, it is attended to and corrected in an instant.

If you demand a no hassle, superfast, and extremely approachable hosting service for your business, Kinetic Servers is your only destination.
Feb 10, 2011
Very Helpful Service!
We needed a great web site design. We were very particular about usage of color and emotional appeal as we sell girls princess canopy bed products. We hired Kinetic Servers and they were the right company for the job. They created an '"OVER THE TOP" website for Princess Canopy Beds! It sparkles and blings! Great customer service. Kinetic Servers is always there to help, late or early! Thanks Kinetic Servers. I have enjoyed the years that we have worked together. You are right company for the job and I will refer you to others!

Thank you from Joanna, Samuel and all the many customers who love to go to my site for visual enjoyment!

Princess Canopy Beds Morgan Hill, CA
Feb 8, 2011
Kinetic Servers Rocks!
We had had our website hosted on several different hosts over the years but it seemed it always boiled down to one thing.... speed... sooner or later we would have issues with speed.. customers would call us asking if our websiite was working ok and we would find out that the host was slowing down because they were way oversold. Sometimes our customers were being asked to download php files... a sure sign their mysql database server was being over taxed.

Since we have moved to Kinetic Servers we have experienced a speed increase like never before. File and pages download faster, more users are connecting to our site at the same time, and our business is up.

Kinetic Servers costs a bit more but they are well worth the ROI
Thank you kinetic servers thank you!