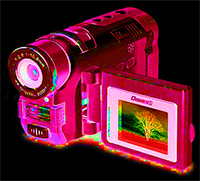 Youtube, Vimeo and now countless other video upload websites let you upload your video for all the world to see and thats fine but when you need your video to have a certain degree of professionalism, custom titles, 3d animation or other cool transitions who do you turn to? Do you even have the tools at hand to try it yourself? will iMovie cut it? will Windows Movie maker? Probably not…
Here at Kinetic Servers we use Adobe Premiere, Final Cut Pro and After Effects as well as FX Home Effects lab Pro to create eyecatching video with spectacular effects, titles and transitions. But we wont stop there, as anyone who has watched a movie will tell you sound and music is half the experience… We can produce original sound effects, original music as well as get royalty free music and even help you get a popular song licensed for use in your video.
Whether the video you need produced is for the web or for a television commercial we have the skill and knowledge to make sure it stands out from the crowd.
Part of our video and animation suite is Adobe Flash and we can produce compelling and unique lightweight flash animation with 2d and 3d elements and still keep it open for editing live via XML files.