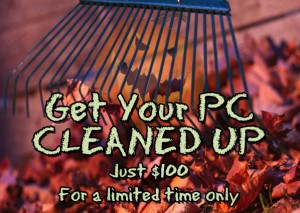 In honor of one of the coolest people I have ever met who is half off his rocker I'm going to run a PC cleanup special like I did over this past summer…
HALF off my regular $200 Remote PC cleanup is now just $100 From now 10/15/2015 to Thanksgiving 2015 11/26/2015 Mention JRM Fall Cleanup to get your PC cleaned up of all nastys and optimized for just $100! This includes scanning for all malware, PUPs (potentially useless programs) virrii, trojans, adware and tracking cookies using several low level and if needed high level scanning and removal tools. Once the cleanup has been completed I will install a program to help clean out old files and registry keys to help your PC run faster and boot quicker. I will also make sure your PC is set to update from Microsoft so you always have the latest patches from Microsoft. All of this can be done remotely  from where ever you and your Laptop or PC is located using a simple application that gives me mouse and keyboard control of your system only for the duration of the cleanup.
If you require I also offer monthly maintenance contracts whereby I will login once a month or even once a week for mission critical systems to run scans and remove any junk accumulated over the past month or since the last scan ensuring your PC is always clean and free of junk and malware and as optimized as you can be. If interested in this service please call (941) 981-0124 for pricing and details.
As always if you have questions or concerns feel free to call or use our contact form to get in touch with us.